Mammy's Hearty Vegetable Beef Stew
This is our all-time favorite comfort soup. Our grandmother, affectionately known as "Mammy," first introduced it to us. She got the recipe from a proprietor of a B&B she and her family stayed at in Myrtle Beach, South Carolina, in the early 1950s. She loved the stew, and asked for the recipe and, thankfully, the lady obliged. Our mom then made it for us when we were kids, and now we (and our other two sisters) all make it a couple times a month in the fall and winter months. The funny thing is, we all make it just a little different. The original recipe that Mammy made called for mostly frozen vegetables and a Campbell's soup base and it was still delicious! But Molly uses a non-dairy soup base so that if she's making half meat, half vegetarian, the vegetarian portion is vegan. She also uses fresh and organic vegetables. Leigh does a combination of the two–she still uses Campbell's soup as a base, but uses mostly fresh, non-frozen veggies. We've shared the recipe below, which is essentially how Molly makes it, but the great thing about it, you can make it your own. Choose vegetables you and your family like; use a soup base that fits your diet; add spices that suit your taste–the modifications are beyond plentiful.
It's rustic, filling, delicious, and healthy, too!
Makes 8-10 bowls
Ingredients:
1 64 oz bottle of V-8 juice (Molly uses Spicy V-8 but use if you don't like a little kick, use regular.)
1 10.5 oz "cream of " soup or 1 1/2 cups of other soup base (The original recipe called for Campbell's cream of celery, but their cream of mushroom or cream of chicken works, too. Imagine makes great non-dairy soups for a healthier option)
Broccoli, 1 bunch chopped in small pieces
Cauliflower, about a third of a head, chopped
1 cup yellow onion, diced
2 cloves garlic minced
1 cup frozen peas, (or fresh if in season)
1 cup corn (frozen is OK)
3 large carrots peeled and chopped
1/2 lb. mushrooms, sliced (Leigh doesn't use mushrooms)
2 potatoes peeled and cubed. (Or one sweet potato, one regular if you like)
1 1/2 – 2 pounds ground beef, chicken or turkey
Spices: onion powder, garlic powder, chili powder, salt and pepper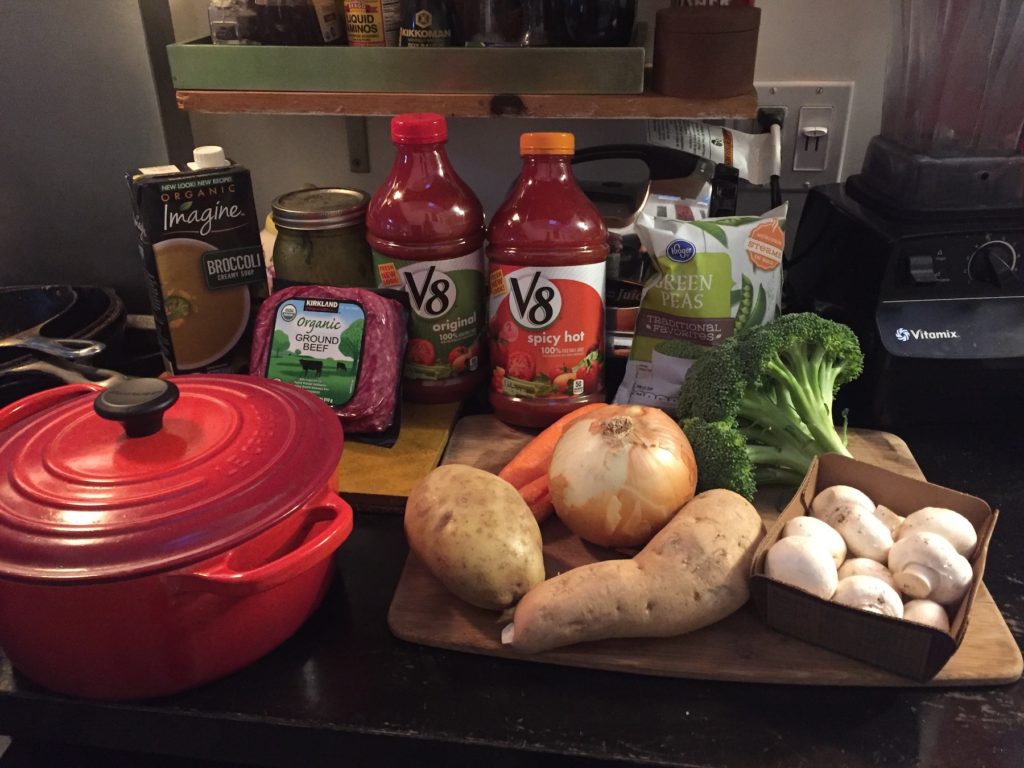 A note about ingredients: The original recipe was only seasoned with salt and pepper, but you can play around with that. Leigh uses organic seasoned salt, and just a touch of cayenne. Molly uses more spice! Molly uses mushrooms and cauliflower and no corn; Leigh uses corn, and often black-eyed peas or lima beans if on hand. 
Instructions:
Start with the V-8 juice and soup base in a big pot over medium to high heat. Add the potatoes and carrots and a dash of all of the spices. Stir and let it come to a soft boil.
Add the chopped broccoli and cauliflower. Stir and let cook about another 5 minutes. Add the mushrooms and peas and reduce heat to low uncovered.
(Note: For whatever vegetables you're using, add the fresh ones during the step that mentions broccoli and cauliflower, and any frozen ones as last step before adding meat.)
While that's cooking, heat oil in a sauté pan and sauté onion and garlic until translucent. Add the ground meat and cook well. Add some salt, pepper, garlic and onion powder and another dash of cayenne if you like, to the meat.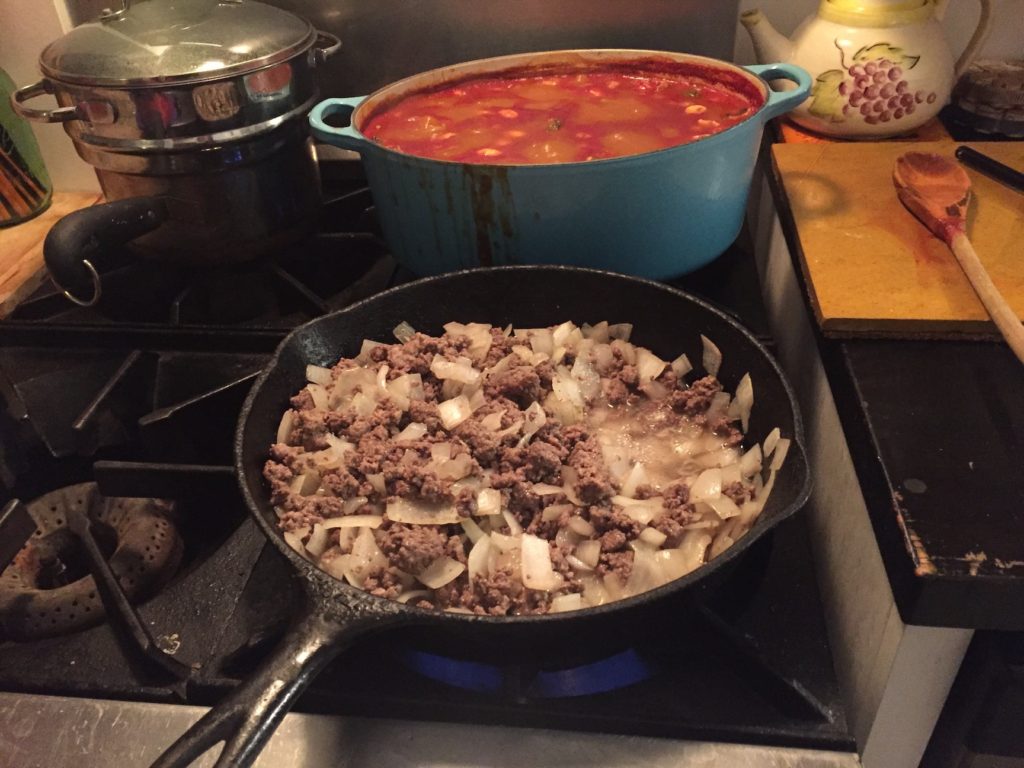 Add the cooked onion and meat to soup and let simmer on low partially covered for about 35-40 minutes, stirring occasionally.
Serve with a simple green salad and bread. Mammy and our mom served it with bread sticks. Yum! This soup only gains in flavor so we think it's better the second day.
Molly's Extra Credit:
Lately I've gotten a little crazy in my quest for making everything from scratch so I've been making the broccoli soup base from scratch. It's not necessary but if I have extra time I do this.
Ingredients:
A big bunch of broccoli, chopped
1 onion, diced
2 cloves garlic, chopped
2 tbl olive oil
4 cups chicken or vegetable stock (You can also make this from scratch)
                                        2 cups packed spinach
Heat the oil in a soup pot over medium-high heat, add the garlic and onions with a dash of salt, cook for a few minutes until translucent. Add the chopped broccoli and cook for a few more minutes.
Add the stock, salt and pepper and bring to a boil. Cook for 7-8 minutes until broccoli softens. Stir in the spinach and remove from heat. The spinach will wilt into the soup.
Puree the soup in a blender in small batches if necessary or with a hand immersion blender.
Add two cups of the soup to the V-8. Save the rest for a healthy and delicious snack.