Lo De Marcos (LDM) is a little slice of heaven just north of the more popular and populated Sayulita, in the state of Nayarit. With a population of about 2,500 year round residents that swells to around 3,500 in the high season. Though we had visited several times since 2009, it didn't make an imprint on us until we spent three months in Sayulita during the pandemic.
Why we love it:
The uncrowded perfect beaches with calm, swimmable waves.
The magical golden sunsets! I've never seen anything more beautiful. I'm the    one with the iPhone trying to capture it every day (See Pippa bathed in that    beautiful golden light above) But alas, you have to experience it to believe it.
LDM is quieter than its neighbors to the south – way less built up, no high   rise hotel chains, less bars, less party culture. More my speed.
You really feel like you're in Mexico. I know that sounds silly but in Sayulita, you hear more English than Spanish–and seemingly more gringos than Mexicans! Lo De Marcos feels like an authentic Mexican town.
The beautiful town square. There's a small outdoor church where services     take place on Sundays, a playground my kids love. It's a meeting place for   the community that is safe and friendly.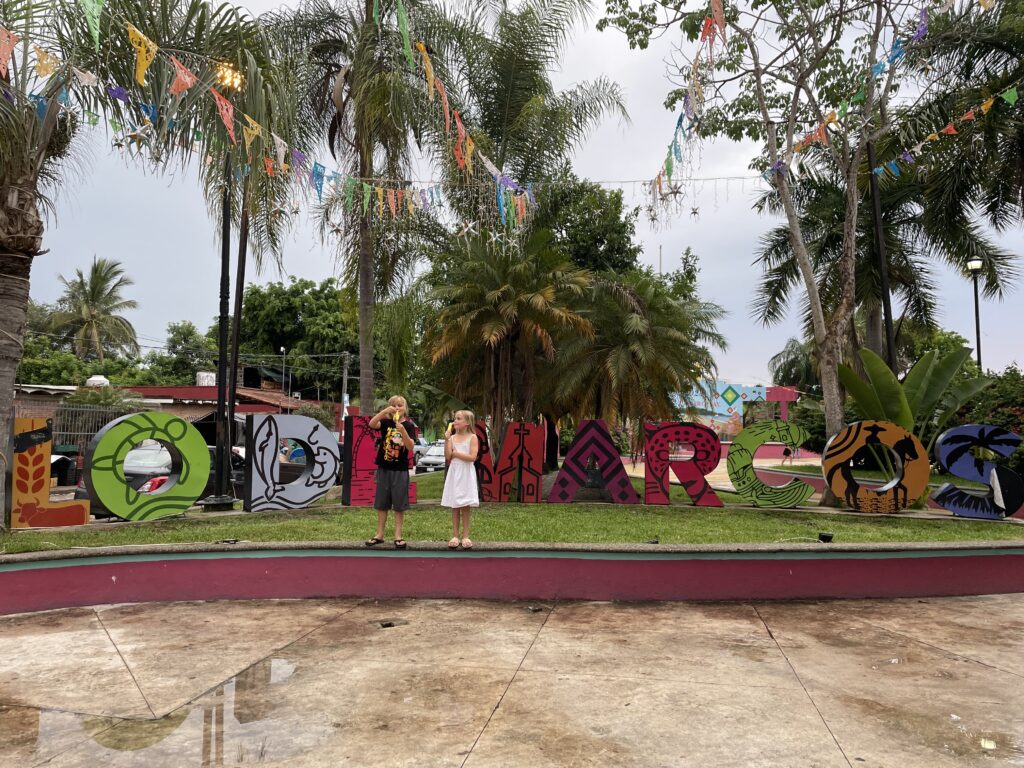 Even though I will always love Sayulita. It's where we got married and have spent countless vacations and will continue to visit, it's gotten so crowded and rowdy – especially during the high season from November to April.
LDM doesn't have the same level of amenities some Americans expect or require like vast choices in accommodation (more on that later), retail, dining, spas and yoga/Pilates centers that Sayulita has. But to me, that's just fine. You will find all that you need without being overwhelmed with choice.
Must Visit Businesses:
El Paraiso – a tiny shop on the main street, Luis Echeverria, that sells the best kombucha, fresh yogurts (the mango is to die for), fresh cream and butter as well as some greens and bone broths. All of it comes from their farmland nearby in Ursulo Galvan. We visit here every other day to stock up!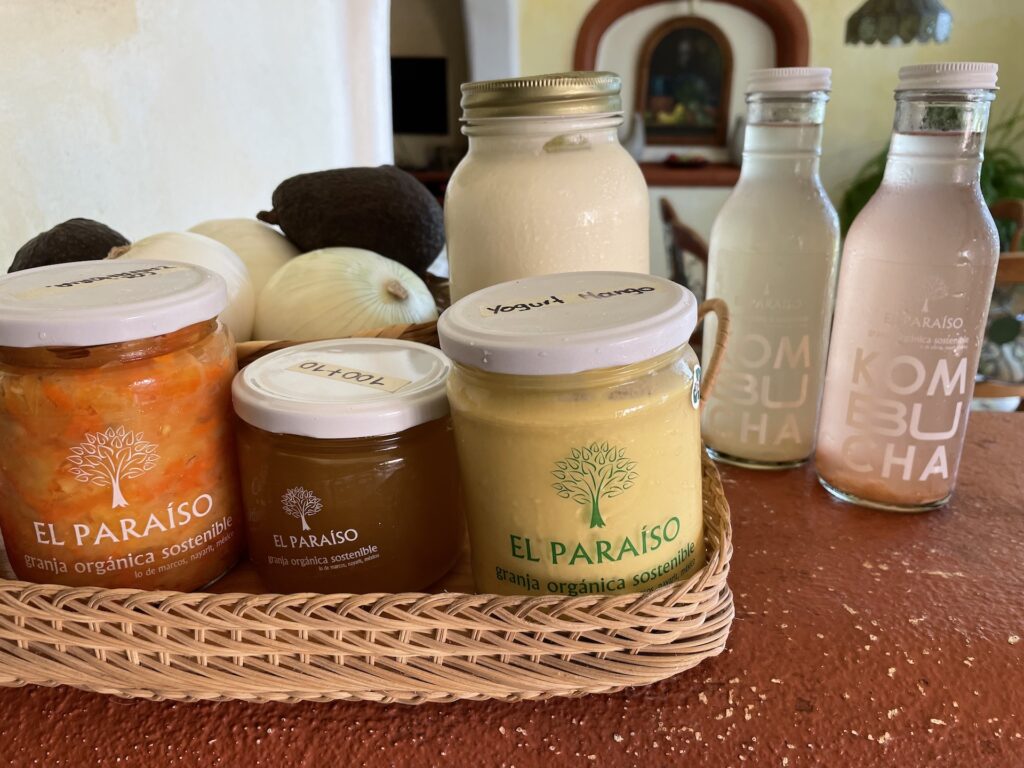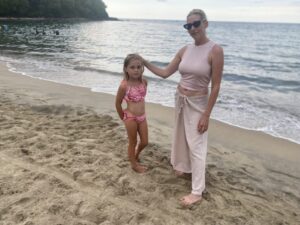 Pura Vida – a gem of a boutique that stocks all Mexican designers and craftspeople. I got a pair of trousers there that everyone asks "where did you get those??" You have to take a trip to LDM!
Tomatino – the "hot spot" restaurant/bar right on the beach at the edge of the trailer park on the south side of town. They have the best margaritas and pizzas there as well as a killer tuna tartare. You can't beat the view at sunset, with tables right on the sand.
Waterman Cafe – this lovely cafe is also on the main street and definitely caters to foreigners. They serve great coffee, amazing breakfasts from a traditional American bacon and eggs to huevos rancheros to a fresh fruit plate. They also have delicious pastries you can help yourself to – the kids really liked that part! So good.
Xplore Adventures – owned by LDM native, Oliver Cruz, it has the best surf, SUP lessons and adventures. His shop on the main drag, Luis Echeverria sells surf boards, board shorts, clothes and all sorts of fun stuff. Oliver is an amazing teacher and guide.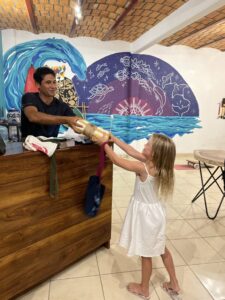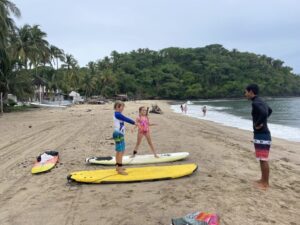 La Ermita – a yoga space that had good vibes to spare. With individual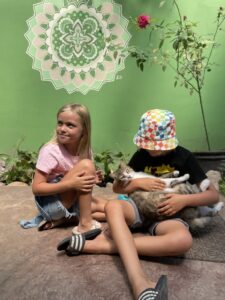 meditation pods, a fish pond and a cat named Francisco, you will love this special little spot. The owner is American and also named Molly!
Licho – the best tacos in town. We ate here often. I liked that they have just a couple options on the menu. Keep it simpleand delicious.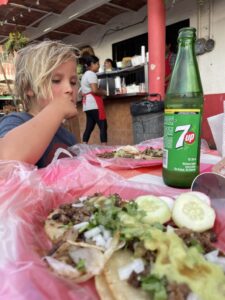 La Jungla and La Palapa – two restaurants practically side by side on the other main road, Las Minitas. With simple dirt floors and palapa roofs, both tiny restaurants pack a punch with delicious ceviche, tacos and a good ole hamberguesa.
I love almost everything about the charm of Lo De Marcos, except a couple gripes about the accommodations. We've stayed in some really lovely Airbnbs in LDM but the amenities are just not there yet compared with what you get in Sayulita, that for better or worse, cater to Americans.
Americans like beach chairs and umbrellas, daily housekeeping, a comprehensive welcome book with offerings like in-house cooking and massage. Americans like towels! In Sayulita, every house we ever stayed offered an abundance of towels both for bath and beach and pool, where the rentals in LDM seem to be rationing towels and toilet paper.
Another difference in the less Americanized rentals is the Mexican style bedroom set-up. Many places we stayed had multiple beds in a room, I suppose for large families. Like four beds in a room!
If you're used to staying in a luxury resort in Punta de Mita or Sayulita, Lo De Marcos may not be for you yet. To us, these are small things. We love Lo De Marcos!! This time we just brought a surplus of towels from home and expected to get our own water and toilet paper. No problemo!