We'd talked about driving down to Sayulita for years.
Pros – We'd have our truck, avoiding the hassle and expense of renting a car. We could bring our dog, Cosmo. We could bring a few more creature comforts and get to see the real Mexico we usually fly over.
Cons – it's a hellova lot of driving, over 1,500 miles over hot, dusty land. It's possibly dangerous. Our kids could be kidnapped and we could be held for ransom or beheaded, or both.
After reading a bunch of blogs and joining two Facebook groups (On the Road in Mexico and Friends Riviera Nayarit Mexico), we nailed down the month of July to do it and set off – two kids and a dog on July 2nd. I gathered enough tips, routes and dog-friendly hotels along the way to feel confident we wouldn't be beheaded.
Most of the tips were common sense stuff like drive during the daylight hours, don't drive at night and stay on the main highways. I assumed the don't-drive-at-night tip was to avoid the thieves and banditos out to take our children and rob us blind, but after stop after stop of only friendly, helpful people, I began to think it was more because of the many unmarked topes or huge speed bumps that could really take out the bottom of your car. Some were hard to see during the day but they were usually marked with humans selling peanuts, camerons or frutas. At night you'd have no chance to avoid them!
We decided to take the Arizona route through the Nogales crossing. All the blogs said the highways were much wider and smoother this way. We took off from Venice Beach, CA and arrived in Tucson, AZ about eight hours later. It went from a pleasant 72 degrees in Venice to the 100's quickly. I packed our bags for easy in and out of the car each night. I packed a larger suitcase stowed in the back of the truck but a small overnight bag for the road trip so the unpacking, tired at the end of the day would be painless – PJs, toothbrush, bathing suit, one change of clothes, underwear, bam.
The first night We stayed at a charming hotel called Lodge on the Desert that welcomed Cosmo in the room, by the pool and in the very good restaurant. We stayed for the included breakfast and had one more dip in the pool before heading south. We crossed the border at Nogales with zero fanfare at about 10am, temp already approaching 100 degrees. No one stopped us or looked twice at us for that matter. We were ready with our papers to prove Cosmo's vaccines and that he was registered in both LA and Santa Monica. No one ever asked.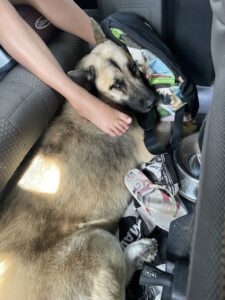 Unless you plan to stay in the state of Sonora, make sure you pull over at km 21! My fellow Facebookers had instructed us to do this and thank god because we almost missed it. It was a not very large, hand painted, green sign that said KM 21. That's it.
This is where you get your tourist visa, insurance, if you didn't get it from your carrier already (we did) and your TIP, Temporary Vehicle Import Permit. You must register your vehicle if you plan to drive further than Sonora. First we waited in a short line to get the visa. I think it cost about $30 each.
Next we were instructed to make copies of the tourist visa, car insurance and registration and passports. There was a little window with a nice lady making copies for tips. We gave her 100 pesos then realized most people probably give a fraction of that. Oh well, it's 5 bucks.
Next, you register the car. We were headed all the way down to Nayarit and I was surprised to have to pay $400! I thought she said 400 pesos. No, that's dollars, ma'am. It's a deposit you'll get back when you return to the US within 180 days. If you don't come back or forget to stop at KM 21, no money. All this took the better part of an hour.
I wasn't sure how long the KM 21 stop would take so I planned our first stop for the night for Santa Ana. We got there so quickly, in about two hours, it was barely 1pm, so we decided to continue on to Hermosillo, about a 5 and a half hour drive. Since we weren't sure of our plans we hadn't booked a hotel for the night. The first one we went to, Hotel Colonial, allegedly took dogs according to Google, but sadly, when we arrived did not.
We stayed at a place called Hotel San Sebastian. The room was perfectly fine. Clean with two double beds. We were so sweaty and hot, we couldn't wait to cool off in the pool. We even got wrist bands to enter. We got to the medium sized pool to find a minimum of forty bodies crammed together, steeping in the too warm, cloudy water. Even Shep, who will swim any time, any place, backed away.
We returned to the room that mercifully had strong AC and watched Spanish TV. I think I had gotten dehydrated in the 105+ degree weather and had to lie down. Alan and the kids went to the hotel buffet and returned shortly with Styrofoam boxes of fried food. It was all pretty gross.
The next morning we took off for Navajoa, still in the state of Sonora. Right off the bat, we got pulled over. Alan went the wrong way on a one-way street, just for a second, to pull into a Pemex station. Alan kept saying "lo siento, lo siento."  Stupid gringo.
The attendant talked to the policia and he let us go with a warning. No shake down. We were stopped a few other times at various checkpoints never exactly sure what they were checking for. Frutas? Drogas? I got the feeling not that many gringos came by. They seemed to be asking us questions more out of curiosity than government business. "Where are you from?" "Do you have a house here?" "Why are you coming through here?" Then they'd wave us on with a "Feliz viaje!"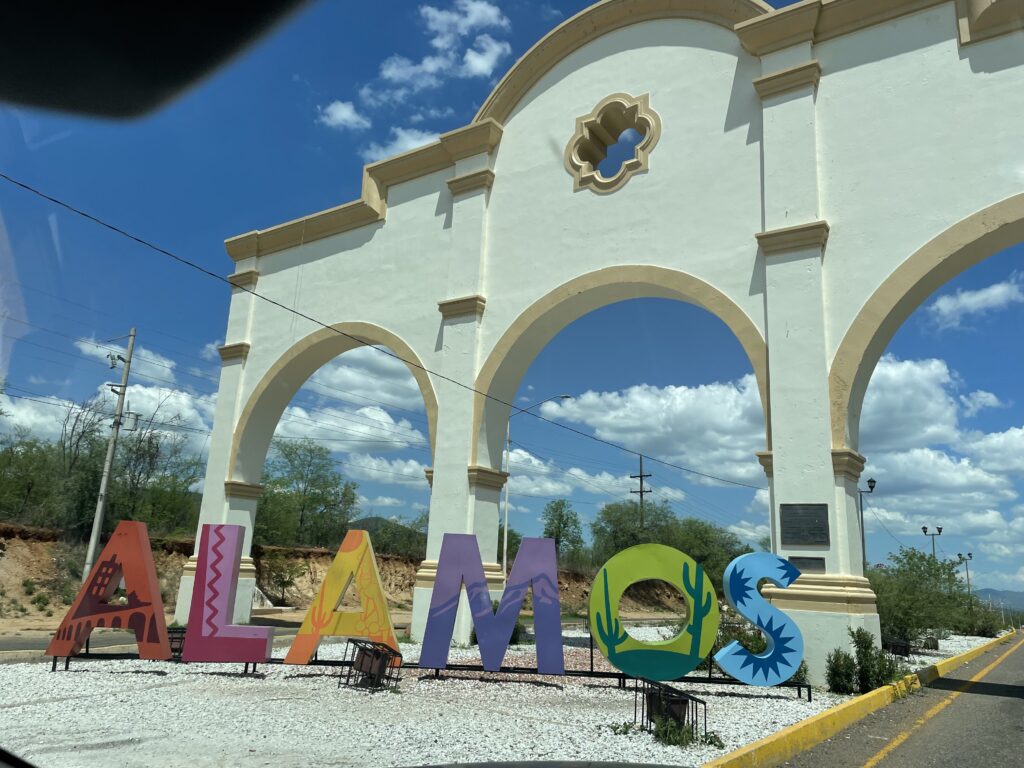 We reached Navajoa pretty quickly in about three and a half hours, so decided to check out the historic town nearby, Alamos. Once a silver mining town whose heyday was in the late 1600's to the early 1900's, now is mainly a tourist destination designated a Puebla Magico, for its beautiful architecture and charm.
We tried to take in the amazing views and eat a little lunch but the heat was punishing and we all wanted to get back into the air conditioned car. Back in Navajoa we stayed at the Hotel del Rio, which is a pet-friendly Best Western. The pool was amazingly cool and empty, salve for our hot bones. We ate in the hotel restaurant, Los Arcos which was quite good.
The next morning, Day 4, we set out for Mazatlan where we'd take a little breather and stay two nights. Aside from the endless tolls, we were stopped at the state border as we entered Sinaloa. I was glad to have all the correct papers we'd acquired at km 21 in Sonora so it was an easy stop with only friendly questions – none about the dog.
We only took toll roads to avoid traffic and potholes that had many tourist policia which added to our feeling of safety. I haven't added it all up yet but I estimate the tolls costed close to 2000 pesos (about $100) one way.
Finally we caught our first glimpse of the sea as we approached Mazatlan. It had such a different feel than anywhere we'd been so far. Driving toward the beach we went through the stark poverty and dilapidated buildings and trash in the streets into the beautiful seaside town, old like a European village – beautiful and ancient. I loved old town Mazatlan right away. Unfortunately the newer part of town felt like Cancun, full of tall towers and resorts with little charm. We stayed in the old part of town at Casa Leyendas more like a house than hotel, which I think it used to be. We unloaded on the street then Alan parked the truck several blocks away in a gated parking lot.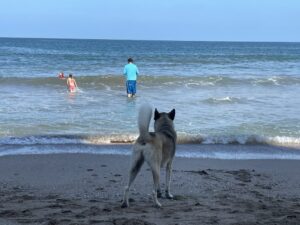 Traveling with a dog, you sometimes get the less desirable rooms. This one was windowless and right off the lobby but we knew bringing Cosmo would present some challenges. He finally got to go to the beach and was happy to start his digging expedition right away. The other beach goers didn't seem to love our coyote-looking perro as much as we do, so we had to keep him on a leash. Alan got up early in the morning to let him run freely on the beach and they both loved that.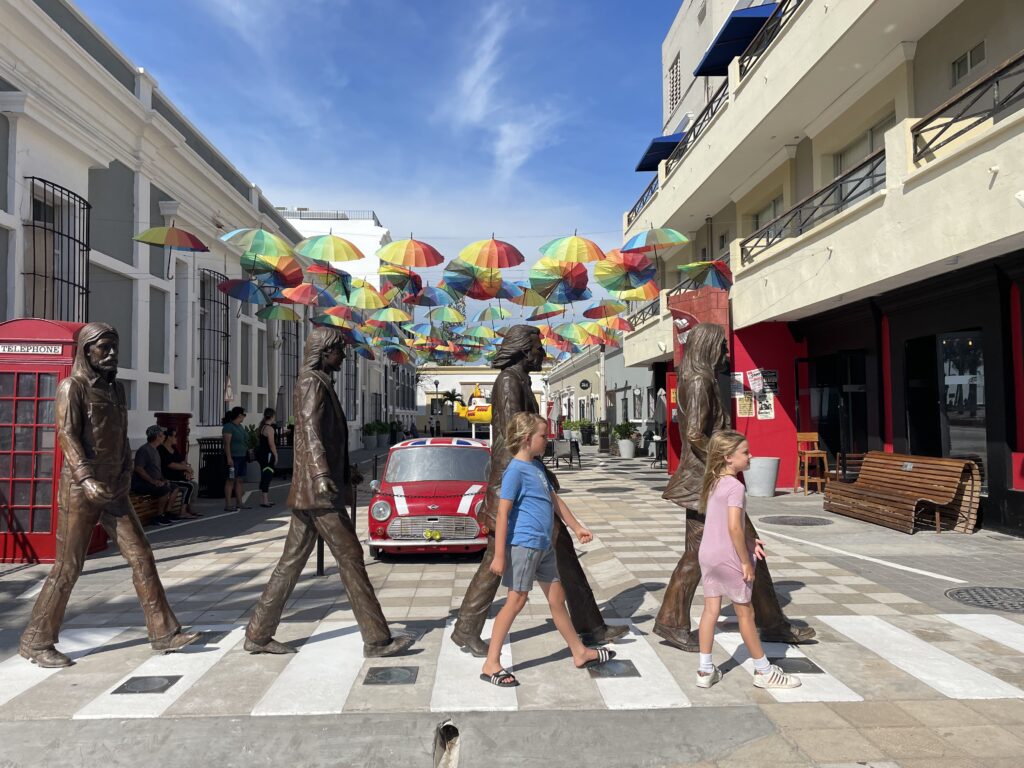 Mazatlan is famous for these little open air taxis, called pulmonia, ready to take tourists on a tour of the city. We paid for an hour tour, around 350 pesos or $17. It was so fun. He took us way up in the hills to take in the stunning views. We saw churches, the fancy houses, shops, the many squares and sped along the malecon. It was relaxing and nice to feel the sea breeze and get out of the hot afternoon. Highly recommend.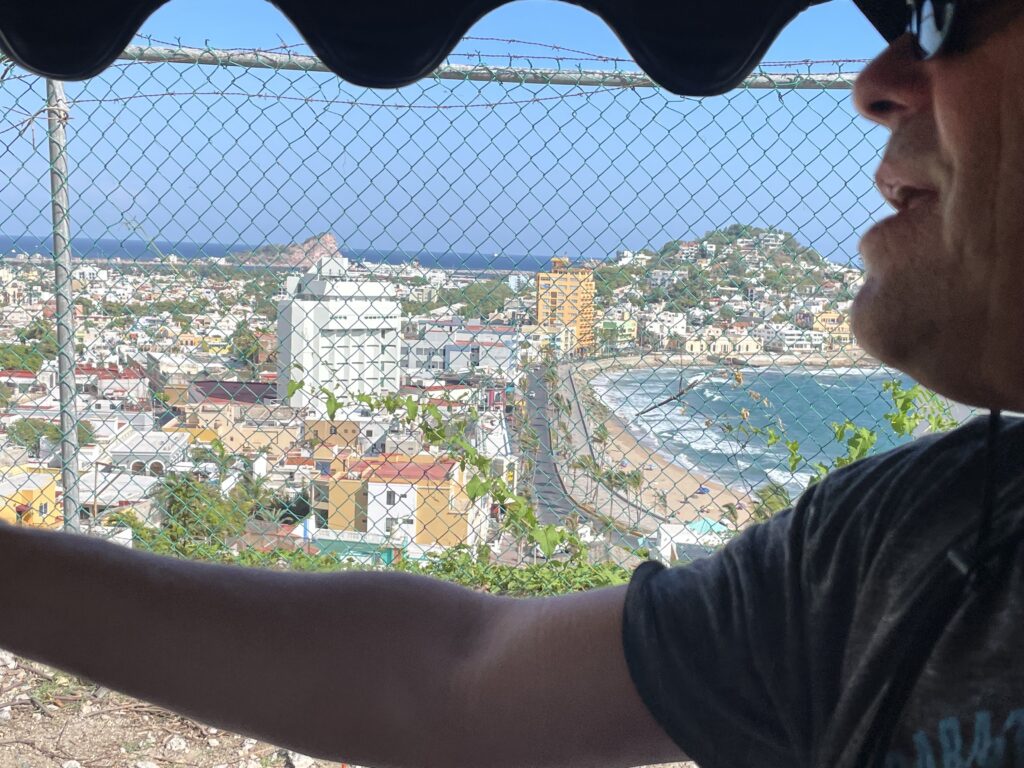 After some rest, we set out for San Blas in Nayarit. Alan had been wanting to visit for thirty years after hearing about this ecological wonder from a friend. It's known for its estuaries, beautiful surfing beaches and seafood. If you're a birder, San Blas is for you. There's over 200 bird species living in the lowland palms and estuaries.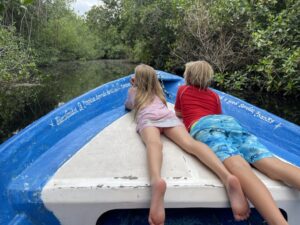 We arrived at our hotel and did a quick turnaround to take a private boat tour of the federally protected nature preserve, the mangrove forest and La Tovara park. This was truly mesmerizing. We saw huge crocodiles and so many birds and trees and turtles. The kids loved it.
The next day, we made it to our final destination, Lo De Marcos! We first visited back in 2010 when we got married and as Sayulita has gotten busier and more populated, we started spending more time in the quieter, smaller LDM.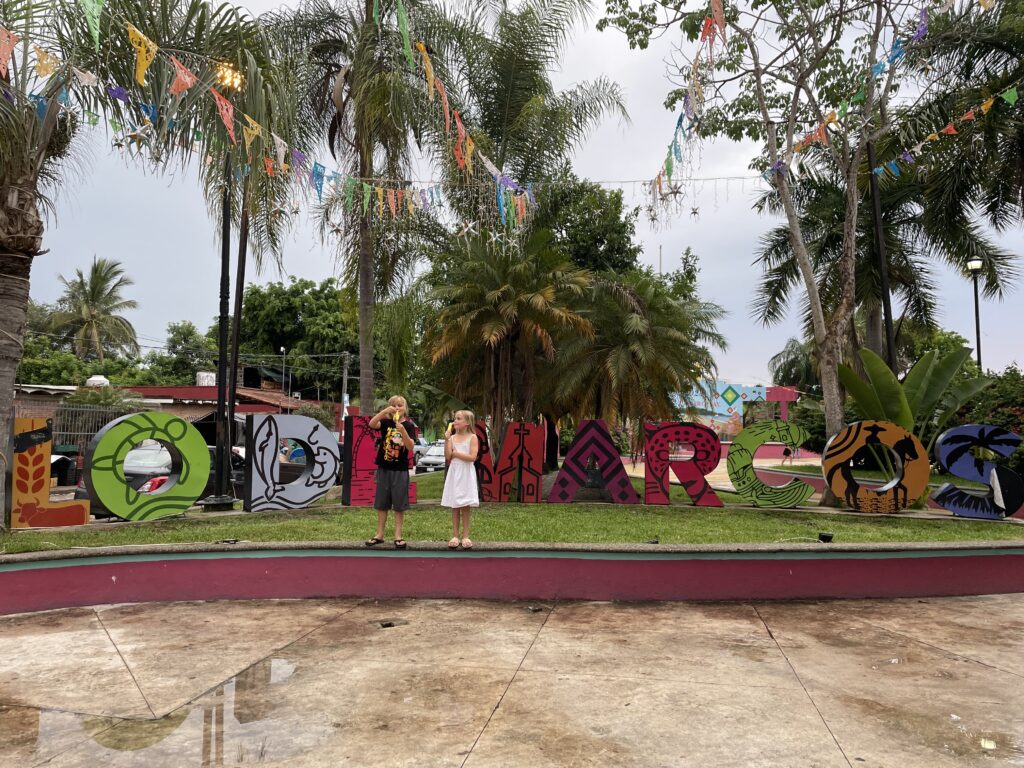 Overall I'm so glad we drove through Mexico. I don't know I would do it again soon, mostly because it's a tiring, long drive that takes 4-6 days depending on how much you're willing to suffer. None the things Americans are scared of and warned me against, came true – not even a little.
People really freak out about Mexico. I've always loved the people, the food and the way of life and I'm so glad, once again, Mexico showed us her best. Everyone we encountered just wanted to help or talk with us or sell us something or feed us. The negative stuff gets so overinflated in the media. Mexicans are very generous people, who LOVE children. I know there are bad dudes there. There certainly is cartel crime and violence but I think violence on tourists is rare. Of course when it does happen it is all over the media. There were two shooting a couple weeks ago in our neighborhood in Venice. Do I feel unsafe to walk around in my neighborhood? No! Same in Mexico. Follow your common sense, drive during the day and have a great time!