I love reading all types of books from the classics and historical fiction to memoirs and nonfiction. But my guilty pleasure? Beach reads! There's nothing I love more than browsing through paperbacks other people left behind from their vacation. Where I'm staying now, a rented house at the beach, the shelf is full of, you guessed it, beach reads! Yes!
I've torn through a couple already that I never would've thought to buy, but thoroughly enjoyed. I haven't touched the other, more serious books waiting on my Kindle. Right now I want to be entertained. I want mystery. I want romance. I want to be transported, but not have to challenge my brain too much. Are you stuck at home on lock down? You might need some fun reading too.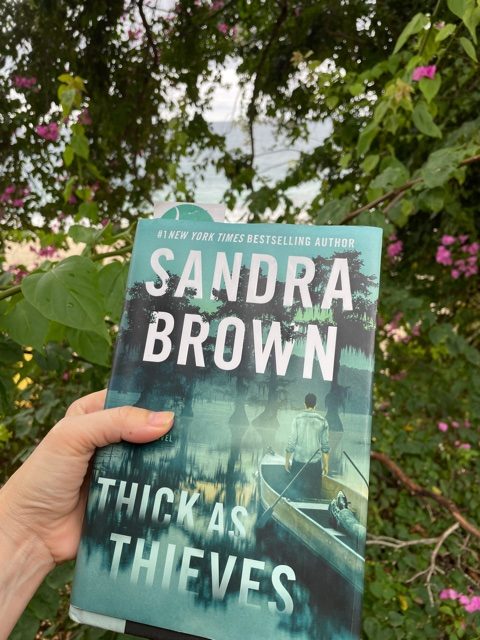 Here's what I've got for ya:         
First up, The Last Song by Nicholas Sparks. It was written back in '09 and was made into a movie starring Miley Cyrus and Liam Hemsworth. Takes place in a beach town in North Carolina. It's about teen love, hidden crimes, turtle nests, loyalty, arson, divorce, death and figuring out what's important in life. Some parts were tedious in their saccharine quality but I tore through it nonetheless.
Next, 28 Summers by Elin Hilderbrand. Classic beach read. Takes place in Nantucket, the island off Massachusetts. The love story between Mallory Blessing and Jake McCloud (love the names) spans twenty eight years over Labor Day weekend. Their affair has to be kept secret as the stakes get higher and higher. An impossible scenario but totally fun to read anyway.
And for a serious page turner, the book my sister left behind after her visit, Thick As Thieves by Sandra Brown. Just try to put down this story about sexy, yet very moody war hero, Ledge Burnet and tantalizingly feminine, Arden Maxwell who returns to the small town in East Texas she grew up in but had to flee twenty five years before after her father disappeared after a major burglary and a possible murder. This tale twists through a decade's long feud, secrets, lies and lust that can't be denied. 
Enjoy!