My new year's resolutions in January 2020 were all about "THE NEW DECADE!" I had all sorts of plans. I had come off the high of teaching in Korea in December and was planning other teaching adventures for 2020. None happened. I was also in negotiations to open a second studio in Venice. Fell through, thank god! Funny, there was no mention of a highly contagious, deadly global pandemic in my goals. I heard rumblings about a disruptive disease in far off places but it didn't register that this thing, the Corona virus would affect my life.
Then March hit and all our worlds came to a grinding halt.
Remember all the business emails flooding our inboxes saying "We'll be closed until March 30th"? Two weeks! I sent one. And I was freaking out about having to close for that long. So sweet and naive. Then there was April, May, school finished in June. Summer. School started back up in August. Zoom. Zoom and more Zoom. I started to get that gut punch feeling that this thing's not going away for a very long time.
The nagging feeling that I was missing something wouldn't go away. There's nothing worse than a missed opportunity! I was teaching almost entirely online. My kids' school was all online. What if we could do something cool and live somewhere different for a while? Why not?!
When else could we leave in the middle of the school year? Up and leave my brick and mortar Pilates studio? All the kids' activities – ballet, gymnastics, jiujitsu? In normal times we'd never disrupt their lives so much to fulfill our impulse to "do something different". How indulgent. But seriously, why not? I always talk about having one life, one shot. What are you going to do with your time? That's Tarrylife in a nutshell.
Where will we go? Mexico came up immediately. We had planned to take a trip to Sayulita, where we got married, to celebrate our 10 year anniversary but when Covid hit, it seemed an impossible dream. Then one of my best friends who was riding out the pandemic in Colorado invited us to visit her family in Aspen. Yes please! We'd been wanting to take out our Airstream but it needed so much work before we could do it. The floors had rot from a leak. It needed new brakes and tires. Plus it was in storage in El Segundo.
What if we could do both somehow? Drive to Colorado and go to Mexico? So many stars would have to align. We'd have to rent out our house for it to work financially. Looking around at the space we'd all been stuck in for months, the thought of having it Airbnb ready seemed an insurmountable task. Where would our two cats stay? Where could we store our truck? What about all the junk in the yard? Every time I thought about getting the house hotel-ready I'd get so overwhelmed I'd want to hide.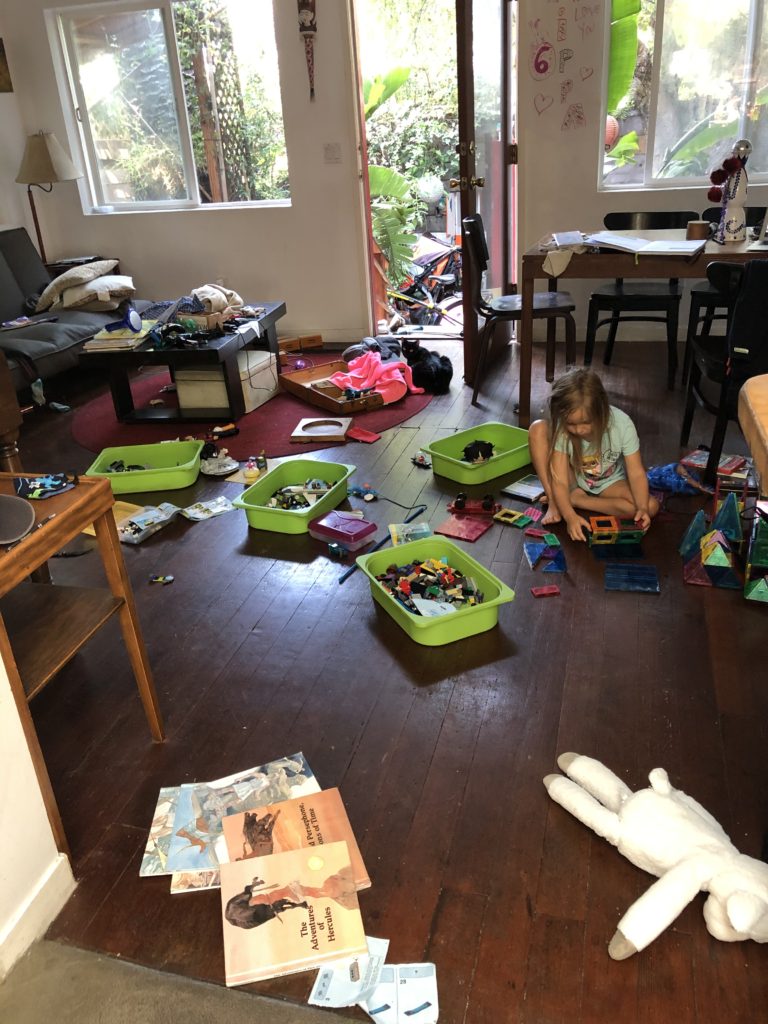 Obstacles kept coming up. A large part of our income is my husband's real estate and all at once every tenant moved out. That hadn't happened in the 14 years I'd known Alan. It was scary. We're in a pandemic and all of our units are empty! We couldn't even think about leaving until we got all the apartments rented out again.
Somehow one by one, we checked things off our to-do lists and the stars started aligning. Our amazing neighbors let us park the Airstream in their driveway so Alan could easily work on it. My mom offered to take care of our cats. One by one all the apartments got rented again. Phew! Then our awesome wedding planner who still lives in Sayulita helped us find the perfect house for November and December. So we did it! We took two weeks in October to drive to through Zion and Bryce Canyon to Aspen to stay with my friend. It was amazing. That's another post.
Airstreamin' in Aspen!
The last piece of the puzzle was finding the right renters for our house. We finally found them and they are living in our house in Venice. Now we're in Sayulita and all I can say is I am so happy. I have what I can best describe as survivor's guilt. Covid is getting worse and worse in LA and we're here living it up on the beach. I've held back like crazy in posting on social media so we don't "rub it in". Everything is better than I hoped it would be. We are in paradise and I'm loving every minute. What's the point of this post? You don't have to be rich or famous – you don't have to be a Kardashian to live luxuriously. If you have a seemingly impossible, what-if idea. You can do it. We've turned the last 3 months of this s**t show of a year into a fun adventure for our family.
I know – every person of means that has a second home has taken off for paradise. But we're not people of means. We do fine but we don't have vacations homes or large bank accounts. We had to be creative and strategic and work really hard then get some help from family and friends to make this happen. And you can too!
Our house through December.