Back to school time has always been a favorite time of year for me. When I was a kid we started school after Labor Day, which seems a bit more civilized than starting smack in the dog days of summer. But I have to admit I was pretty psyched to get them back to school (and get my life back). We had A LOT of togetherness time this summer.
New school supplies, pencils, pens, paper supplies, notebooks – I love all of it. An unexpected treat of having kids is getting to live those first days of school all over again. It's a perfect time to reorganize your home and life. I'm rethinking several areas of my house so they run smoother. Our bedroom, storage options in every room, the bathroom. But the room that is a constant pain in my butt is the kids' room. There are so many moving parts and so many toys and Legos and papers and art projects that come home daily. It can overwhelm even the most zen and organized among us. You have to have a plan.

The key to an organized home is having a place for every single thing. If you have this, you're golden. You still have to put everything away everyday to reset your home, but it's not an overwhelming big deal. If you have too many items for your house to fit comfortably you must either get a bigger house or get less stuff and store it smartly. I always will choose the latter. Everything has a place.

My kids love art, drawing, painting, cutting stuff out and gluing it to another thing. This is the area I'm attacking. Sometimes I find myself discouraging them from drawing or painting because I don't want to deal with the clean up! The key is finding a system that works.
Here's what I do: I found a clear bin meant for cosmetics at Bed, Bath & Beyond. I put crayons in color coded sections. Markers, pencils have sections as well as glue, scissors and erasers. Loose paper and notebooks go in a separate bin.We also have an outside area for painting and I keep all the painting supplies out there.

We have a revolving art gallery on their wall – up to a dozen drawings or paintings can fit. When it gets too full we decide which ones to take down to make room for the new art. We photograph them and usually throw them away – not all – but mostly. The photos end up in a book like this.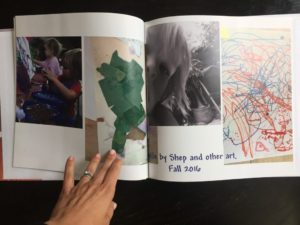 My feeling about childhood art is it's experiential. It's meant to be lived, experienced and savored in the moment, not to be kept forever. I love my kids' art and I keep a small collection of it and let the rest go.
We went to LACMA last weekend and they have a great section for children to paint. We had a lovely time painting a whole bunch of pictures. You can either take the finished product home with you or leave it there to become part of their gallery. Which one do you think I chose?

Another art hack that is a life saver for a tidy home is the white board and dry erase markers. Man, I love these! The kids LOVE them and talk about easy clean up. These saved us on our road trip. Now we always have the white boards and pens in the car.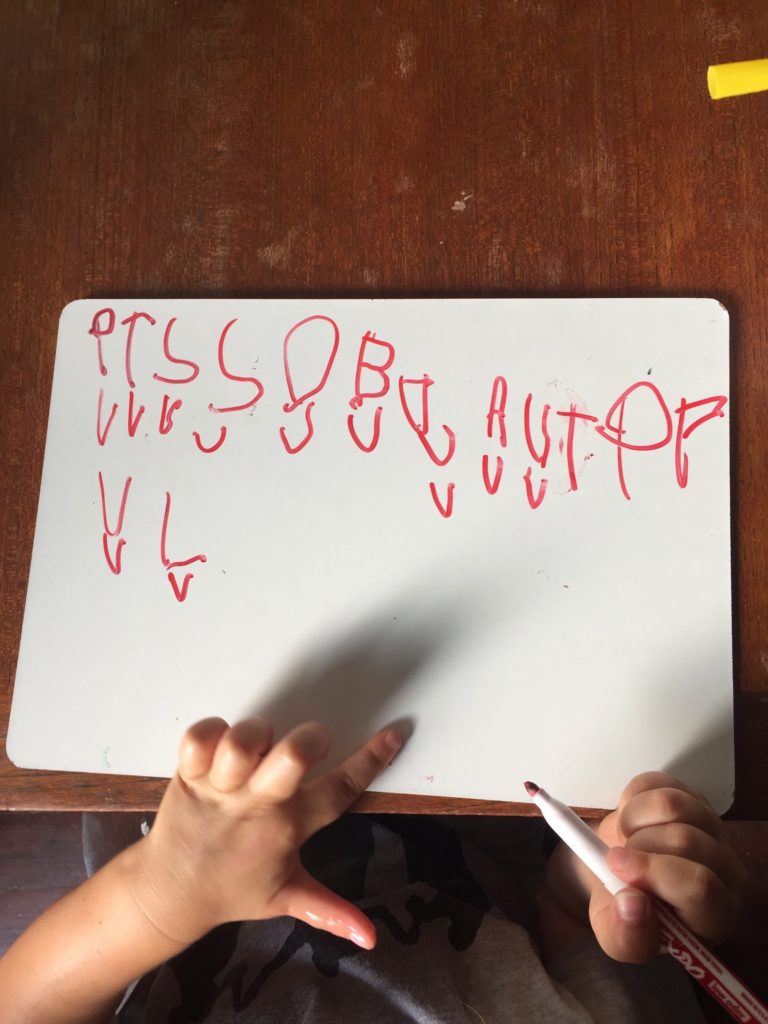 Now I never hinder their creative side. Just like in the classroom, every thing has its proper place.