I've been part of a book club since 1998. I started one in New York City with some of my high school girlfriends and it's still going strong today. Most of the original NYC group migrated home to L.A. People have come and gone over the years but amazingly the core members are the same.

Being in a book club has meant so much to me. It's more than just a monthly meeting to discuss a book. We've been through it all – the good stuff, like engagements, weddings, pregnancies and births. But we've also had our fair share of devastating events of break ups, miscarriages, illnesses and tragic deaths.
Thankfully, our book club always includes a healthy dose of straight up belly laughter. It's a girl's club and we've traumatized some of the significant others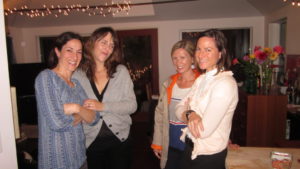 once or twice overhearing a raunchy story. Ahem, shirt cocking.
Mostly it's safe place to come and unload. We drink wine. We talk about what's really going on in our lives. We eat. Then we get around to discussing the book. Often not everyone has finished the book. Sometimes a few never even bought it but we still come together in the name of literature to share a meal, some good wine and always good conversation.
I hope we continue for many years to come. We read everything from the classics to popular fiction, even childhood faves like Are You There God, It's Me, Margaret by Judy Blume. I'd love to hear about your book club and what you're reading.