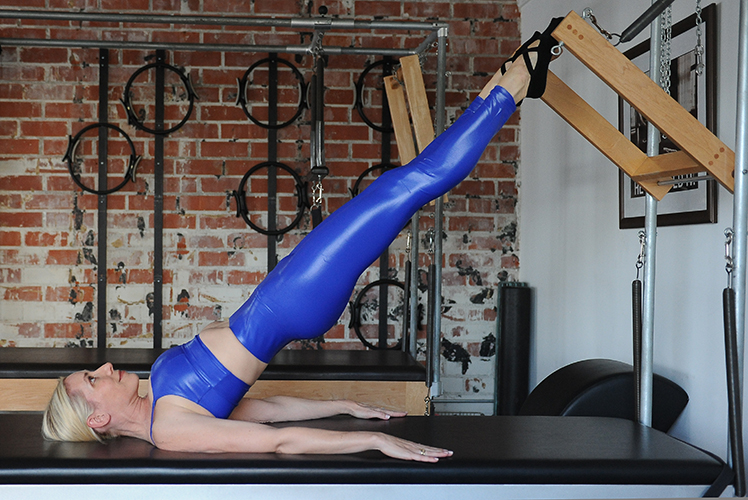 "Molly is the real deal. I've taken Pilates all over the world and Molly is my favorite teacher." – Lisa Baskin
I discovered Pilates as a dancer in college back in '94. The work totally changed my body. I got stronger in the right places and was able to dance injury free. I was hooked and have been teaching since 1999. I was lucky to do my first certification with Joseph Pilates' protege, Romana Kryzanowska at Drago's Gym and The Pilates Studio in New York City and a second certification at Power Pilates with Bob Liekens in 2007.
My Pilates practice helped me stay fit and comfortable throughout my pregnancies and after. I love guiding expectant mothers through their journeys. I own a charming, sunlit studio in Santa Monica called Phoenix Classical Pilates .
I'd love to see you in real life at my studio or virtually – live on Zoom or choose from dozens of recorded classes on Pilatesology
To Schedule An Appointment:
Email me at molly@[email protected]
Facebook at Tarrylife
Instagram at @mollyniles
New Client Offers
We have two Intro Offers for new clients. One is for group classes. One is for privates. Both are awesome.
Group Intro: 3 Class Pack for $89 (expires in 21 days)
Private Intro: 3 Private Sessions for $270 (expires in 30 days)
Get your Pilates in whenever and wherever you like.
Just $20/month. Try it for 30 days for free! Use code: MOLLY30
"What is Pilates?"
Pilates is a method of body conditioning developed by Joseph H. Pilates in the early 1900's. This unique system of hundreds of exercises focuses on strengthening and stretching the body. The Pilates Method concentrates on the core, which encompasses the abdominals, the lower back, inner thighs and buttocks. The key tenet being that if your core is strong and your spine is lengthened and supple, your body will stay balanced and healthy.
Through exercises performed on several different apparatuses, the Reformer, the Cadillac, the Wunda Chair, the Electric Chair, the Ladder Barrel and the Mat, your body will be transformed. After just a few sessions you will begin to carry yourself differently; your posture will improve; your core muscles will be strengthened and toned; your abdominals will get flatter and stronger; your legs will look longer and leaner; your spine health will improve.
The Pilates Method helps the body inside and out by relieving back pain, improving posture and creating flexibility in the muscles and joints. It also improves coordination, balance and alignment along with stimulating the circulatory system, oxygenating the blood, releasing endorphins and healing injured tissue.
"Is Pilates for me?"
Yes! Pilates has developed a reputation as a program only for women and dancers, but that's not true! Pilates is the perfect exercise program for everyone. The method teaches the student how to use the body correctly whether you are an elite athlete or dancer looking to fine tune your physique or a sedentary person trying to gain a basic level of fitness.
I will tailor your workout to meet your specific needs, whether you are rehabilitating an injury, pregnant or preparing your body for a big event. Pilates is for every body, young, old and everyone in between! Joseph Pilates was born in 1880 in Dusseldorf, Germany.  As a sickly child who suffered from asthma, rickets and rheumatic fever, he made it a lifelong quest to improve his health. Mr. Pilates began developing his exercise system, first called "Contrology" in the early 1900s. During World War I he served as an orderly in a hospital on the Isle of Man where he began working with non-ambulatory patients. He attached springs to the hospital beds to support the patients' limbs while he worked with them. This apparatus was the basis for the Universal Reformer.
Mr. Pilates moved from Germany to New York City in 1926 and set up his first studio on Eighth Avenue. He created this exercise method with men in mind, but he quickly gained a devout following among many dancers namely Martha Graham and George Balanchine, because the body's alignment, core strength and flexibility are so improved. His method became known as a program for dancers but this wasn't his intention. He taught thousands of regular people in the Eighth Avenue studio until it was destroyed by a fire that some say led to his death at age 86 in 1967.
Several of Joseph Pilates students carried on his work taking what he taught them as they remembered and carried it on to their students. That is why you see so many variations of Pilates today. My first teacher was one of Joseph Pilates main protegees, Romana Kryzanowska.
"How much does a Pilates lesson cost?"
Private Pilates classes are not cheap! As a teacher with over twenty years experience with multiple certifications, I always stay up to date with continuing education workshops and seminars. I charge $120 for one session, $575 for five sessions and $1100 for ten.
However there are ways to practice Pilates with any budget. My studio, Phoenix Classical Pilates in Santa Monica offers an array of fun group classes for much less. Many gyms offer Pilates mat classes included in your membership. Or sign up for Pilatesology.com for hundreds of great workout you can do from home for $19 a month! Just use code MOLLY30 to get 30 days for free.
"What should I wear?"
Wear comfortable yet form fitting clothing so the teacher can see what's happening in your body. If you look at photos from the old days in Joe Pilates' studio, the women wore only a leotard. The men wore a speedo. That is not necessary! I wear yoga tights and a form fitting T-shirt or workout top. I suggest men wear biker shorts under their shorts and a fitted T-shirt.