This is the part of the trip where we go rogue. We'd only made concrete plans and reservations through the wedding week then we planned to just figure it out. I wanted to explore Lombok and I had heard about this trio of tiny islands called The Gilis as otherworldly, beyond beautiful. We decided to check out the island of Lombok first.

Getting there was far from easy. From Pemuteran to the port to catch a "fast boat" took a good four to five hours. I was already feeling a little queasy from something I ate or the car trip which took so long we missed the last boat of the day. We were left to find a place to stay overnight in the port town of Panangbai. We decided to lodge in a homestay, a family's home, common in Bali. We hauled all our bags up five steep flights of stairs. I couldn't get to the bed fast enough. I knew I was sick.
A word of advice for travelers, avoid getting on a Balinese "fast boat" if you're feeling nauseous. The boat didn't turn out to be very fast at all. The regular ferry took five hours from Panangbai to Lombok but was large and steady and only cost a couple bucks. The so called fast boat was supposed to take under two and cost about twenty bucks each. Our fast boat was delayed an hour. When it finally arrived, we were entombed in a airless cell and it took three hours to get there and was so choppy! This is the part of the trip I'd like to forget. It was awful.
We finally arrived at Qunci Villas in the town of Sengiggi by nightfall. I was so sick I just needed a bed. Even in my sad state I could see that this place was magical. Unfortunately I spent the the next two days in bed moaning and throwing up so I didn't get to enjoy it at all. Finally a young Lombokian doctor came up to examine me. I basically had Bali Belly, a stomach bug probably from accidentally drinking a little water. He gave me two injections in my backside. I don't know what it was but I recovered quickly in time to move on the the Gilis.

The Gilis are like Goldie Locks and The Three Bears. Gili Trawangan or Gili T is the biggest, most sophisticated of the islands and the most crowded with partyers. Gili Meno is the smallest and quietest – Off the grid, even described as desolate but gorgeous. And Gili Air is just right. If you're so inclined, there is a nightlife scene but you can also get away from it and be calm and quiet. We chose Air.
No cars, mopeds or dogs are allowed on these islands. Instead these poor little horses with carts called Cidomo, endure a lifetime of servitude. I felt horrible for them hauling heavy tourists with their bags from one side of the island to the other in the tropical heat. I wish I could say I boycotted this mode of transport but I couldn't figure out another way to get the kids and our luggage to our hotel. It was either that or walk. If I'd known about this before I wouldn't have chosen the Gilis. I still feel bad about it.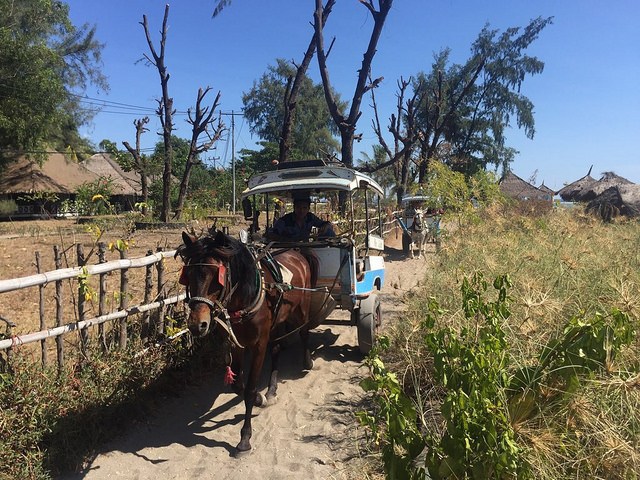 When we finally found the hotel we'd quickly booked online it was rundown but the water and the beach were so beautiful that we stayed. I wish I had gone to the Gilis ten, twenty years ago when they weren't so crowded (and I was younger). I found Gili Air packed to the max with backpacker tourists in their twenties. Everything seemed kind of sticky, damp and saturated with years of tanning oil. No decent coffee. The food very mediocre everywhere we went. I'm twenty years too old for this. I just wasn't feeling it.
The second morning Alan came down to breakfast and said, "Let's go back to Qunci." I jumped up and quickly packed our things to get on another boat back to Lombok. This time I was more present.
Lombok has a totally different feel – Bali's less popular, gritty second cousin. Lombok has just as much as, if not more natural beauty than Bali, but it's strikingly poorer, more Muslim, the architecture is plainer and less colorful.
Bali is Buddist and Hindi and is flooded with tourists stoking their economy year round. Whereas Lombok seems to get forgotten by tourists. We probably wouldn't have made it out there either if we didn't spend a month in Indonesia.

You could feel the desperation of poverty by the guys on the dock. We were swarmed as we made our way off the boat with our bags. Five guys surrounded us, each one took one bag, two more picked up the kids. We didn't feel threatened, but we didn't know what was happening. We walked unencumbered to the taxi stand. Alan offered them a tip of a few rupiah but then it wasn't so friendly anymore. They each demanded an unreasonable sum of money and weren't taking no for an answer. Alan gave them a bit more money but less than they wanted and they finally left us alone.
We finally made it back to Qunci and checked into this breathtaking private villa. I daydream about this place in times of stress. They offered an "Early Bird Special" for fifty American dollars that included a private yoga class followed by a foot massage then a beautiful breakfast overlooking the sea and then a 90 minute massage! It was amazing.
I didn't know how I was going to go back home. I was growing very accustomed to the good life of daily spa treatments. Talk about living the tarrylife! I now know what it feels to be rich! Nothing cost more than seven dollars it seemed.
On our last day Alan took the kids to the local elementary school to check out how the Lombokians do it. They welcomed Shepard and Pippa in and sang songs with them. It was so sweet.

I will miss you, Bali and Lombok. I dream of going back someday. We met so many beautiful people. It was truly a life changing trip I will cherish forever.

* I'm selling these beautiful sarongs from Bali and donating ALL of the money to two great charities. Take a look here!